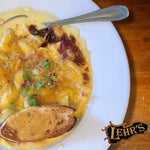 Sausage, Bacon, Ham and Cheese are 4 favorites I never want to live without. Throw in pasta and now you have a decadent dinner or side that will be your new signature dish.

Ingredients:

1 lb. Velveeta Cheese – cube for easier melting
6 oz Block Swiss Cheese - hand Shredded
4 oz Block Pepper Jack Cheese - hand Shredded
1 1/2 Cup Half and Half
¼ cup Milk
1 tsp. Lawry's Garlic Powder
1/2 tsp. Pepper
½ Cup Diced Summer Sausage - cut into 1/4 inch pieces
½ Cup Sliced Deli Style Ham cut into small pieces
½ Cup Chopped Bacon
2 Cups (or 1/2 16 oz box) dry large shell pasta, cooked al dente

Topping:

1 1/2 cups Panko Breadcrumbs
4 tbsp. Melted Butter
1/2 cup Shredded Monterey Cheddar Jack
¼ tsp. Paprika
Garnish:
Finley chopped Green Onion (optional)
Prep: 30 minutes

Baking Time: 10 minutes @ 350 degrees rotate in oven halfway through

Total Time: 40 minutes

Servings: 4-6 (as an entrée) 8-10 (as a side dish)

The saying goes: A watched pot never boils.

Here are some tips to make that time seem faster and to make this recipe easily flow for you.
 
When you start your pot of water to boil your shells in, get the rest of your ingredients together.

In one pot slice your butter into fourths and sprinkle the Paprika on top, melt your butter on a low setting (we are not trying to cook it, just melt it) stirring until melted and Paprika in well incorporated.
When it's melted, take it off the stove, stir in your Panko breadcrumbs until very well mixed (they will look as if they have already changed in color because of the paprika) and set this off to the side. It won't hurt them to sit and these are used in your final step.

On a cutting board, cube your Velveeta into 1-inch cubes for easier melting and shred the pepper jack, swiss and Monterey cheddar jack.

Dice up your Lehr's handcrafted summer sausage, ham and chop your bacon.
In another pot measure your half and half, milk, garlic powder, dry mustard and pepper. Set off to the side until needed.
Open your box of large shells.

Turn on your stove and begin to Preheat your oven to 350 degrees.

Now you are ready to go.
 
When your pot of water comes to a rolling boil, put in your large shells and give it a few stirs so the pasta shells stay separated. Every two minutes or so give it a couple of stirs to make sure it stays separated.

Now you're going to do double duty….

Once your shells are in, the first pot, start heating your second pot with your half and half, milk and incorporated spices on low (not boiling ever) and begin to put in your Velveeta a large handful at a time constantly stirring, once you have about half your Velveeta in and it is smooth you can put in your swiss, still constantly stirring then the rest of your Velveeta and then your pepper jack and continue to stir until it is velvety smooth.
At this point your shells should almost be ready to take off the stove and drain the well, shake as much water out of them as you can.  Now fold your meats into the cheese mixture. 

Take your 2 ½ quart baking dish and put the drained large shells in it, pour your cheese and meat mixture over it folding it in. Remember to not worry at this point there's nothing you can mess up.

Now once the mixture looks like something yummy, place your shredded Monterey Cheddar Jack cheese on top, then your bread crumb mixture on top of that.
Then place into your 350-degree preheated oven for 8 minutes, checking it at 4 minutes and rotating if necessary to get an even brown on top (because we like pretty food)

Garnish

Eat
 
Leftovers?

To figure out ratio - Dice and cook approx. 1 ½ cups Broccoli (or approx.., one broccoli crown) to 2 cups of leftover.
First reheat your pasta and add 2-3 tablespoons of half and half for each 1 heaping cup of Pasta you are reheating. Set aside, covered to keep warm.
Cook your Broccoli, drain well.
Fold in cooked broccoli into your pasta and now, my friend, you have a whole new dinner or side dish.
 
Directions:
Read through directions to make timing flow for this recipe because you are not baking it through, just browning the top at the end of the recipe.

Mix breadcrumbs with melted butter & paprika. Stirring until well mixed. Set off to the side.

Boil and cook large shell pasta, drain thoroughly when finished.

Heat half and half, milk, and spices in sauce pot until hot but not boiling.

Slowly add cheeses and turn heat to low, stirring frequently.
Fold in cooked ham, diced bacon and summer sausage.

Stir until sauce is heated through and velvety.

Fold drained shell pasta and loaded cheese sauce into your baking dish. 
Sauce should be extra creamy, feel free to add more milk if needed. 
 
Place shredded Monterey cheddar jack and breadcrumb mixture to top of loaded pasta, place in preheated 350-degree oven for 8 minutes to melt cheese and toast breadcrumb mixture to a golden brown.
Check at 4-minute mark and rotate if necessary to evenly brown.